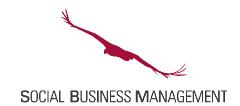 SBM Social Business Management turns social projects into business projects. We consider us as agents and facilitators of services, resources and information between projects and organizations on the one hand and enterprises, foundations and affluent persons on the other hand.
SBM maintains a diversified network to enterprises, foundations and private persons. Many of these groups want to be involved in social activities – whether for charitable reasons or for image promotion. They offer a financial commitment or provide both own resources and know-how.
SBM verifies projects identified for these intentions for their compatibility with different needs and proposes individual commitments, harmonious partnerships and promising approaches.
5. Profit is only one aspect of success!