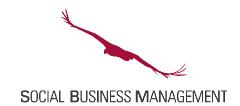 Undertaking means to us jointly making money and earning a return that, however, in contrast to customary practices, constitutes the end of the entrepreneurial chain of needs and not its beginning.
Our projects are always designed to be on equal footing – we are a partner, source of inspiration, initiator and coach.
Unlike the non-profit "charity thinking" that always depends on generous donators for own funding purposes, Social Business follows a sustainable approach. There is both the true purpose of solving social problems and the realization of profits through business models that also allow for the viability of projects from own resources.
4. The question of the rate of return is no question for us!